What a week it has been; snow, snow and more snow. But the wheels keep turning and as night follows day, Friday arrives. So please take a few minutes out of your day and enjoy our regular musings of life inside and outside of Three Counties.
Snow. Lots of snow.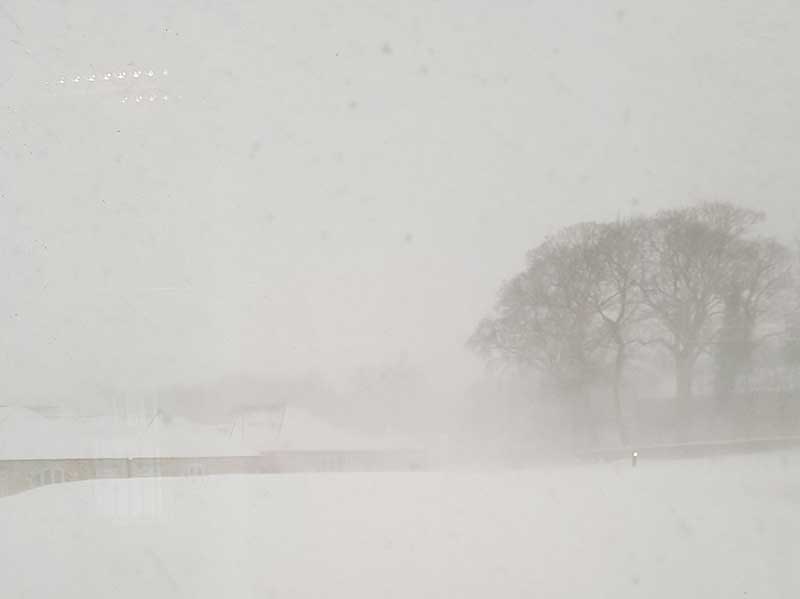 This was the view from my desk on Tuesday morning as the "Beast from the East" rolled in. Who knew that Jean Claude Van Damme had so much elemental influence?
Yet despite all of this, Three Counties remained open; from 7.30am until well after 5pm. Clients' investments and their financial plans were kept on track and our phone lines were constantly available for enquiries.  I'd personally like to give a huge thanks to the Three Counties staff, especially Wilma, Lisa and Martin who crossed the threshold every day without fail, were first in and last out; props to you guys.
In other news, the changing retail landscape has been felt this week, not only on the high street but also in global markets.
WPP, the world's largest advertising company announced its growth expectations were being reduced by around 40%, reporting a slow start to 2018 and a no-growth outlook for the year on the back of a tough 2017 where revenue and profit margins were also flat.  WPP's shares dropped as much as 13.1% to their lowest point since November 2014 as the market digested the news.
Running parallel to this were the announcements by both Toys R Us and Maplin of insolvency as both companies were unable to find new funding deals. New Look, the clothing chain, also sought consent from their bondholders ahead of a possible restructuring that would involve closing many of their existing 600 stores.
High street chains are clearly struggling with a generational shift towards online shopping, just as WPP's traditional advertising revenue streams are being impacted through online advertising.  The needs of consumers who are becoming ever more comfortable and in many cases, reliant, upon online communications, are forcing change upon traditional business models.  Those who do not, or cannot embrace this, will inevitably decline and like so many before them, be removed from the annals of history.
Yet service and value remain key; something that we constantly focus upon at Three Counties. Our aim is to embrace technology as best as we can, whilst retaining traditional values and our focus upon our clients' needs.
Finally, this week's playlist has a theme.  Based upon this week's meteorological events, we thought it would be prudent to flip it on its head and give you all something that could thaw you out.  Have a great weekend; stay warm, stay safe and I will see you all next Friday.