Afternoon to you all! I hope your week has been fruitful and your weekend plans are all in place.  And as I signal the start of the weekend, please take a few minutes to (hopefully) enjoy this week's News, Views and Truths.
It feels like an age since I mentioned 'the Trump' in these pages – let me rectify this by dedicating this week's publication entirely to his shenanigans this week.
He must have felt the urge to throw the cat amongst the pigeons as he started early; last Sunday to be precise.  As is his modus operandi, he immediately vented on Twitter…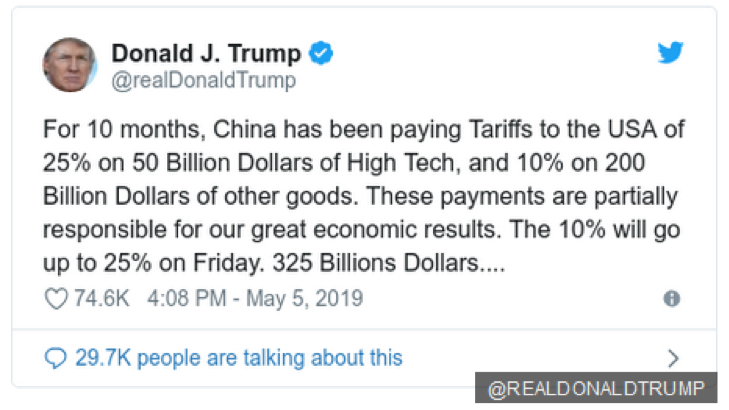 The US and China have been conducting negotiations on a trade deal for months.  However, US trade representative, Robert Lighthizer accused China of reneging on previously made promises.  "Over the course of the last week or so, we have seen an erosion in commitments by China, I would say retreating from specific commitments that had already been made," Lighthizer said, adding the reversal is "unacceptable."
In the past, such a reversal would have created political waves within the US.  But not this time.  Democratic Senate leader, Chuck Schumer, has come out in support of the President's stance, telling him to "hang tough" in the trade deal.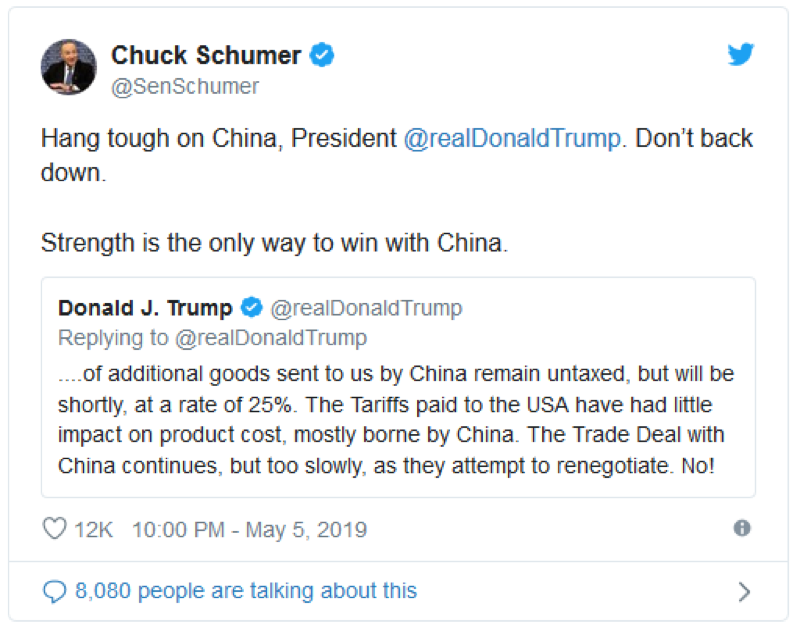 (If you hadn't already guessed, everything happens on Twitter.  If it doesn't happen on Twitter, frankly, it isn't real.)
And as the market had priced in a conclusion of the US China Trade deal, this news dealt the market a wobble.  The US S&P 500, at the time of writing, is down 2.53% over the week; when America catches, the UK catches as cold and again, the FTSE 100 is down 2.02% over the week.
But let's put this into perspective, this week's performance has been on news flow only, with no consideration to the underlying economic fundamentals which remain very strong for equity markets.  My advice?  Buy the dips.  Or at least keep invested.  The trade negotiations are still on and I would not be surprised that any positive news coming out of today's meeting is reflected in a relief rally next week.
Or another fall. But then that's the market for you.
And in the usual manner, our playlist this week is a conglomeration across our office.  A prize to anyone who can correctly guess the theme.  Have a great weekend and I hope to see you all next week!