Good afternoon everyone!  And what a sunny afternoon it is – in Burnmoor anyway!  The birds are singing, parliament is still prorogued; what more could we possibly ask for?  How about this week's News, Views and Truths?
Aside from the obvious political carrying-on (Luxembourg, boo hiss), the big news this week was the UK inflation, in the form of the Consumer Prices Index, dropped to 1.7%.  This is the lowest level of inflation since December 2016 and was driven lower by the decrease in computer game prices.
Really?  Computer game prices?  Anyway, core inflation which excludes food, energy and alcohol prices, also fell during August to 1.5% from 1.9% in July.
Now, you may receive all of this information with a stunning "Meh"; it's all numbers that in reality are difficult to put into personal perspective.  Yet inflation, for all investors, must be an absolute focus; the hidden hurdle that we all must get over if we want to achieve meaningful capital growth.
And to put this into perspective, The Guardian (I know, I go above and beyond the call of duty to provide you, my dear readers, each week with content, even if that means reading The Guardian), published a breakdown of the price of goods in 1969, to commemorate the 50th anniversary of the 50p piece, their cost adjusted for inflation and the cost of the goods today.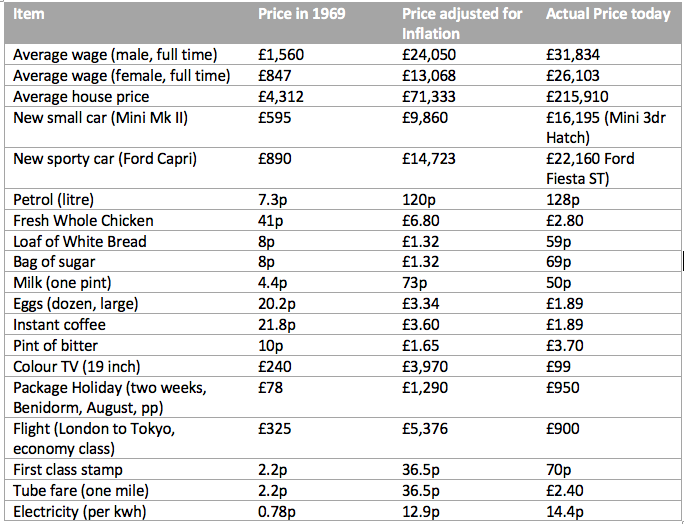 Although the inflation-adjusted price and the actual price may vary, and in some cases wildly, the difference over 50 years is stark.  And although a 50-year time horizon may be greater than your own, investors must seriously take into consideration the eroding effects of inflation within their financial plans.  It's not just a number.
And to finish, our usual playlist.  The forecast looks great for the weekend, so get out there and enjoy it.  I shall see you all next week.