Hello there!  It seems like an age since we last spoke; apologies for last week's absence.  However, the man flu struck in the most savage of ways.  Anyway, I'm back, raring to go with this week's News, Views and Truths.
So, putting the B-word to one side, this week's big news was from the International Monetary Fund and their bi-annual World Economic Outlook.  Twice a year, the world bank predicts economic growth, drilling down through regions, to individual countries and suggests where their growth prospects are going.
The headlines have been as follows:

Regular readers of this newsletter will not be surprised; bad news sells.  Looking into the latest report, the IMF suggests that global growth is set to fall to its lowest rate since the Global Financial Crisis, as a result of the US/China trade war.
The ongoing situation between the two largest economic nations on the planet has reduced business confidence, resulting in central banks having to intervene in order to prop up the dwindling regional fortunes.  And in that, as and when the global economic fortunes do hit the skids, central banks may have run out of dry powder to effectively offset.
The bottom line is that the IMF's prediction is for the global economy to grow by 3% during 2019, down from 3.8% in 2017 and is the slowest rate of expansion since 2009.
Breaking it down further, I have attached a chart below for all you stat geeks out there.  Interestingly, the UK fortunes are significantly better than Germany and France; who would have thought that?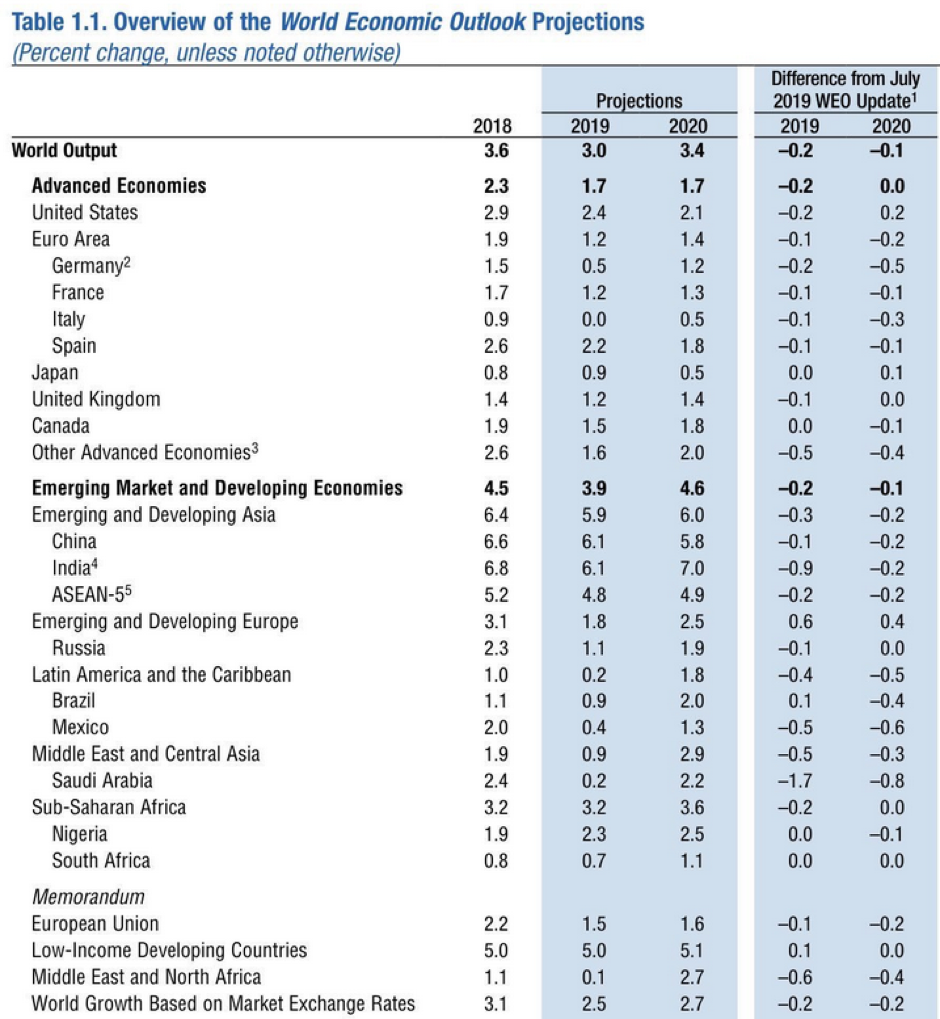 In fact, let's remember that all of these are just… guesses.  No one knows; in fact, the IMF (and the vast majority of economists for that matter) has a terrible track record for getting projections anywhere near close to being correct.
Let's focus on the positive; courtesy from Charlie Bilello, a notable US investor, a few points.

Can we all just focus on the positive?  Let's look to the future with a positive mindset and if we can do this, the negative can take care of itself.
As ever, our weekly playlist.  Have a great weekend, let's be positive about Super Saturday (if you are an MP reading this, do the right thing) and I shall see you all next week!