Good afternoon everyone and I hope you have all had a very productive and enjoyable week.  After a fair few days on the road, I am now safely positioned behind my desk and collecting my thoughts for this week's News, Views and Truths.
This week, the market could be illustrated thusly: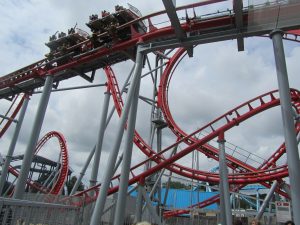 The week started impressively; the FTSE 100 hit 7396.8 on Tuesday, the highest reading since 30th September.  The US S&P 500 hit a new all-time high of 3127.45 and the Japanese   Nikkei 225 was at 23410.10.  Developed markets globally were coasting along nicely, all to do with the promise of a cessation in hostilities between the US and China and their ongoing trade war.
But a bit like a rollercoaster, the markets do not run on a straight line.  It's always loop-di-loops.
Until the ink is dry on a formal agreement between the US and China, concerns surrounding trade war escalations will always drag down markets.  Due to the perceived possibility that the two may not reach a deal by the end of the year, markets fell.
Kicking off in Asia, Hong Kong led the region with its benchmark Hang Seng index falling 1.6%. The Chinese Shanghai Composite index lost 0.4%, while Japan's Nikkei 225 gave up 0.8%.
A published report suggested a preliminary "Phase 1" trade pact may not be completed this year as negotiators continue to wrestle over differences. The report by Reuters cited an unnamed Trump administration official as saying it was possible a deal might not be reached, but more likely that it would.
However, the trade deal is not the only fly in the ointment.  Many market participants are already twitchy over the possible blow to the trade deal talks due to comments from U.S. Congressional members expressing support for human rights in Hong Kong, where political protests have dragged on for months.  China condemned moves by U.S. lawmakers to throw their support behind the protesters in Hong Kong, threatening "strong countermeasures."
It is not an exaggeration that the world is looking at this situation as being the single most important factor for the continuation of positive market performance. Investors have been hoping the world's two biggest economies can make a deal before new and more damaging tariffs take effect 15th December on about $160 billion in Chinese imports, particularly smartphones, laptops and other consumer goods.
If a deal is not going to get done before the end of the year, then all of a sudden, this uncertainty comes back in, focussing on what is going to happen around December 15.  Whereas the market has come to expect that those tariffs are not going to happen, this certainty could be waning.
And as I have often stated, the market abhors uncertainty.  All we can do is wait and see.
As it is Friday, a playlist to close the week.  I hope you all have a wonderful, restful and fulfilling weekend and I shall see you all next week.