Another Friday. Another day in lockdown. Another News, Views and Truths. Can't all be bad?
This week the market has been dominated by extremes, both in price movements and news flow. Wednesday was a prime example.
Regular readers of the blog may remember my piece the other week on the drug Remdesivir and the disappointing results from Chinese trials, the hope being that the treatment can herald the beginning of an effective treatment to COVID-19. On Wednesday, the maker of the drug, Gilead, announced that further, broader tests held within the US had presented favourable results.
As a result of this, US markets hit session highs in early afternoon trading after Dr. Anthony Fauci, the nation's top infectious disease expert, expressed optimism about the drug. Speaking at the White House, Fauci said a National Institute of Allergy and Infectious Diseases' (NIAID) study showed Remdesivir had a "clear-cut, significant, positive effect in diminishing the time to recovery" from coronavirus.
The Dow Jones Industrial Index climbed 600 points, or 2.6%, with the Nasdaq surging 3.5%. Gilead rose 4% on Wednesday and is now up 27% year-to-date.
Hope. Hope drives the market. Want to see proof?
On the same day, the Bureau of Economic Analysis published their estimation of US Gross domestic product (GDP), or the value of all goods and services produced by the economy, announcing a shrink of 4.8%. This marked the steepest drop in GDP since the 8.4% contraction at the end of 2008 and aligned neatly with economists' forecasts of a 4% drop.
And? This picture sums it up.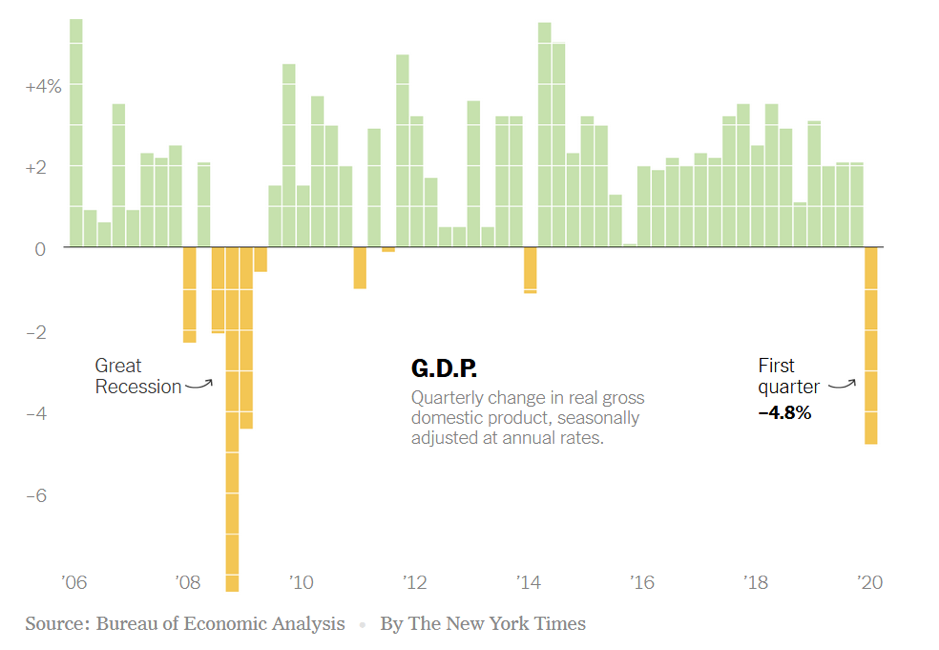 First.  Quarter.  The world is still, largely, in lockdown.  Economic activity is nowhere near normality and that normality seems a long way off.  Yet the markets continued to surge higher on the heady mix of hoping for a medical breakthrough and central bank intervention.  This chart below – one of the slides used in my recent investment update – highlights the extreme nature of intervention, keeping the market on life support.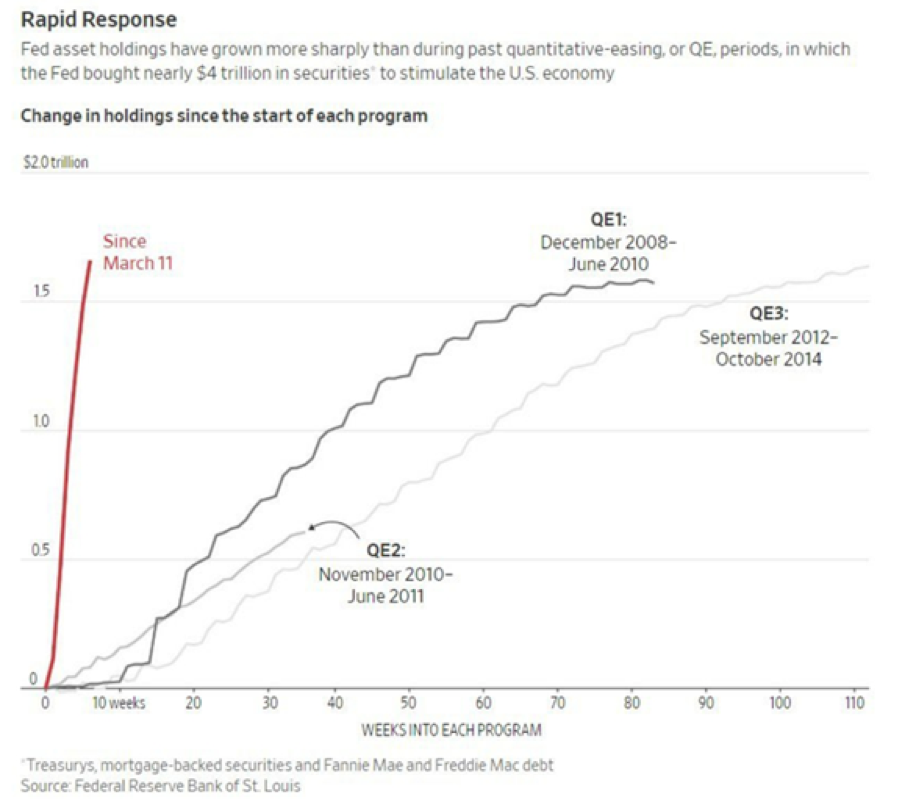 These are extreme times, with extreme measures and extreme market moves. The FTSE 100 ended a very positive April with a final day loss of 3.50%; it starts May down 2.25%, with US futures pointing to a negative opening.
There is an old stock market saying, "Sell in May and go away, come back on St Leger Day." We shall see whether this holds water in coming editions.
I mentioned earlier my recent investment update. If you missed it, don't worry (although ask yourself, what on earth could you have been doing at the time which was of better value and entertainment than listening to my dulcet tones for 30 minutes?). A recording was made and it can be found here.
The feedback we have received from the event has been overwhelming and I would like to personally thank everyone who attended. We will be doing more online events in the near future, so make sure to sign up now so that you do not miss them.
And to finish, our usual playlist. The theme is "holidays" just to wind everyone up! Have a great weekend and I shall see you all next week.