Hello everyone and many thanks, once again, for gracing me with your presence; it really is appreciated. Anyway, it's Friday and that can mean only one thing. Welcome to this week's News, Views and Truths…
Has reality finally returned? Has the situation that the world finds itself in finally seeped into the psyche of the market?
After weeks of unrelenting, hyper-positive returns delivered by an ever-increasing global equity market, the past 24 hours have seen the biggest falls since March. The reason? Like I said, a dawning realisation that everything may not turn out in the perfect way that the market is pricing.
So why all of a sudden is the market getting spooked? The irony is that it's from the same source that had fuelled this surge in optimism; the Federal Reserve.
After pumping into the market levels of liquidity never seen before, on Wednesday the Chairman, Jerome Powell, announced that the pandemic could result in permanent economic damage and an extended period of high unemployment. He cautioned that, despite May's better-than-expected jobs report, "it's a long road" to a labour-market recovery.
And that reality was not realised by the masses until he spoke those words. And yet, like a modern-day supplier of fiscal narcotics, he kept his addicts wanting more by signalling a willingness to continue economic stimulus efforts, saying that the Fed would leave rates near zero and continue multibillion-dollar bond purchases.
So, what was the damage?
The Dow Jones fell 6.90%, with the S&P down 5.59% and the Nasdaq down 5.27%. There is no doubt at all that these are big daily numbers under any circumstance. However, let me allow you to deliver some context. Since the lows of 23rd March, the Dow has returned 22.42%, the S&P 21.52% and the Nasdaq a whopping 28.46%. And closer to home, the FTSE 100 has risen 17.57% from the 23rd March lows and the FTSE 250 25.57% Source: Morningstar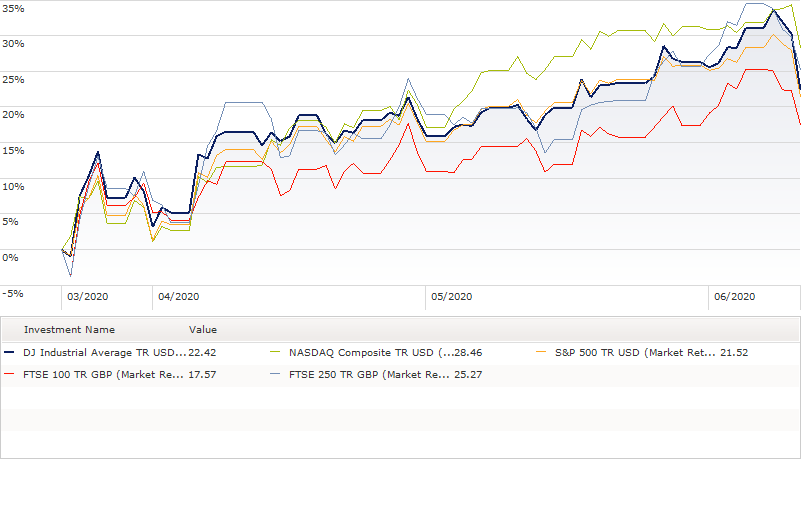 Although reality has bitten hard, will this be a mere blip in the road or something based more on rationality? Looking at the futures market, the US indices are pointing to a positive opening, up some 1% at the time of writing, based on a smaller fall in Asian markets overnight.
However, one thing is for certain, is that the Leader of the Free World will not be able to keep his nose out of it. On Wednesday, he tweeted:
And then yesterday, as the markets fell, he followed this up with:

Be sure for more fireworks via twitter this week!
This week's blog is once again available via our new podcast which can be listened to here. Honestly, if you do not listen to it, you are missing out and if you could listen and subscribe to it, I would be eternally grateful.
Not only do you get the blog straight from the horse's mouth (think of it as a financial Jackanory!), but you also get to hear me and Joe Capaldi, Investment Manager from Charlotte Square in Edinburgh, talk about other issues that have come across our desks over the past week. And some of it is quite crazy. And then, to top it off, we have a weekly cocktail recipe, this week's courtesy of our very own Wilma Watson.
My latest fund manager interview video is live and can be found here. It feels like the Joe Capaldi show this week as Joe talks us through his own company management process, focusing on AIM shares and the opportunities that they can provide investors, along with the inherent risks.
And to wrap up… our usual playlist! Stay safe, stay happy and I shall see you all next week…