It's Friday, so that must mean it's time for this week's News Views and Truths.
Coronavirus outbreaks have continued to drip, drip, drip uncertainty into the markets this week. And despite the equity and bond markets trading blows, one asset has been quietly and steadily increasing in the background. Thriving in this backdrop on continued uncertainty, gold has been the success story of 2020.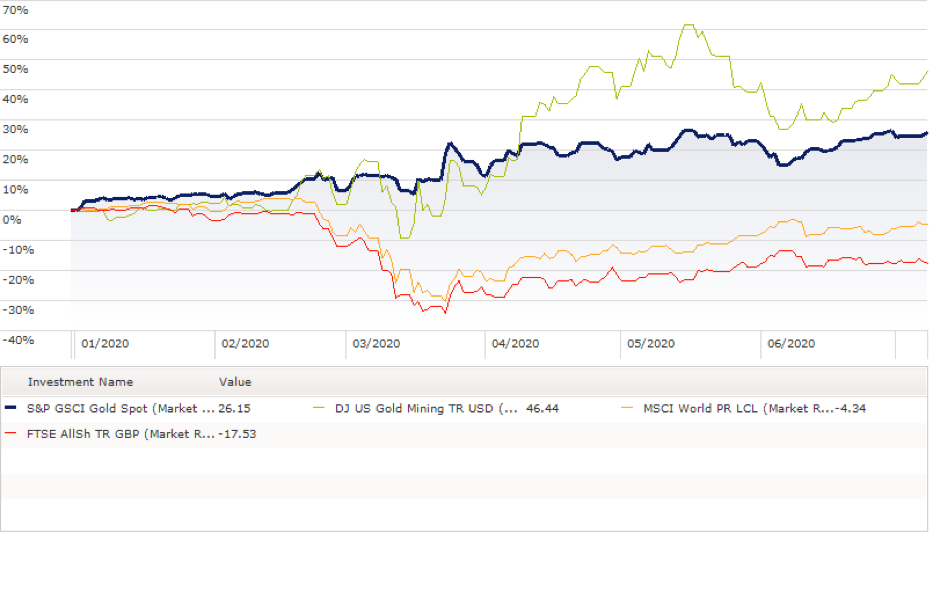 Source: Morningstar
In dollar terms, the spot price of gold has risen 26.15% year to date, up to a price of $1,803 an ounce at 1.07 pm local time at London's trading session on Wednesday, passing above $1,800 to reach the highest level since November 2011. But that's not all, gold mining stocks have nearly doubled that return at 46.44% year to date, dwarfing the return of global equities at -4.34% and the UK FTSE All Shares at -17.53%.
So why the demand? After all, gold is, as a metal, useless. Right?
Well, actually, wrong.
There has been increasing use of gold in technology and healthcare. In fact, there have been two new medical-related uses for gold reported in just the last few weeks.
According to Asian Scientist Magazine, scientists from the Singapore University of Technology and Design (SUTD) and Nanyang Technological University (NTU) have developed a promising anti-malaria drug. Researchers created a class of gold-containing molecules that impair the malaria parasite's metabolic function, leading to the parasite's death. This new drug is even effective against strains of malaria that have developed a resistance to traditional anti-malarial drugs.
Meanwhile, researchers at the University of Queensland have also used gold to develop a universal cancer test that just takes 10 minutes and requires nothing more than a mobile phone. According to Forbes, scientists discovered a unique DNA structure that appears to be present in all types of cancer cells, including those in breast, prostate, colorectal and lymphoma cancers.
Researchers say they don't know if they have discovered the "holy grail" for all cancer diagnostics, but they do think this DNA structure could be a universal marker for cancer.
However the increase in the gold price is not due to the use of the metal, but in its ability as a store of fundamental value against devaluing global currencies. The increase of fiscal spending as a result of the global pandemic is increasing demand for the yellow metal as investors search for a safe haven, especially as bond yields are at eye-watering lows.
Yes, it's volatile, and particularly so when you look at gold mining stocks. But history has shown that in times of uncertainty, gold is the place to be. In September 2011, gold hit its all time high of $1.920.30 an ounce and many commentators speculate that continued uncertainty, fuelled by a resurgence of coronavirus outbreaks as the Northern Hemisphere moves into the traditional "flu season", could see that record being tested.
So, all that glitters could possibly be gold after all.
My weekly podcast is available each week here. It covers my usual market commentary, along with guest contributors who discuss other areas of finance and it would be fantastic if you could give it a listen. This week we have Rahul Bushan, Co-founder of Rize ETF who outlines the investment opportunities within cyber security. We also discuss this week's budget announcement with my advisory colleagues and finally, go through our weekly cocktail recipe to help you enjoy the weekend even more.
My latest "When Andrew met…" video is live where I talk to Eustace Santa-Barbara, co-manager of the Marlborough UK Micro Cap fund and we discuss the UK smaller companies sector.
And finally, our playlist. Have a great and safe weekend and I shall see you all next week.